"Changing sales systems? It's going to be too disruptive to my business"
I want you to think about incentivizing your company in a way that aligns with how your operation makes money.
You feel like your sales reps are comfortable, happy, and you don't want to upset the apple cart in this tight labor market.
The problem—This attitude is enough to get people to show up but not enough to truly engage them.
Employees today want to be comfortable AND challenged, and that is definitely true for the top performers on your team. VxP does that. It will keep your team comfortable by keeping them informed with the data they are used to, while also challenging them to take that data and use it to achieve the goals for their route and the company.
How do you challenge your reps?
Creative destruction is how great leaders challenge their teams. Creative destruction is the dismantling of long-standing practices in order to make way for innovation. In today's economy if you are not evolving the way you do business, you will get run over by the competition, including those that you may not currently see as competition.
I believe one of the most powerful ways to evolve your business is to incentivize your team. People respond to incentives. We learned this as children, when we were given our first allowance. Our parents were trying to get us to respond and change our behavior by incentivizing us to do certain tasks. It's just that simple.
Incentive Alignment
The common distributor profitability plan is that if you grow your gross profit dollars and manage your expenses, you can increase your net profit, invest in CAPEX, and keep operating your successful business. If this is the main goal, why don't we incentivize our sales team to grow gross profit?
The name of the distribution game used to be if you grew volume, you grew profits. That has changed. With declining volume and the complexity of our portfolio, your sales team has so many choices and so many levers to pull. While this is certainly a good thing, it can also be extremely confusing figuring out what they should do in the moment when selling to a retailer.
If your current compensation plan incentivizes on volume alone or top-line dollars, you are not properly balancing for a sales team's return on effort. The top brands (Budweiser/Bud Light or Miller Lite/Coors Light) and your return on effort to sell those brands is currently really high. They don't take a lot of effort to sell, and your volume/dollar-based pay plan pushes your sales reps to make the easy sale. BUT you have a portfolio of brands and packages all with unique value to the distributor. Over the years, as our portfolios have become more complex, so has the reliance on each box's interaction with our company's bottom line. These products all contribute to the bottom line in a different way.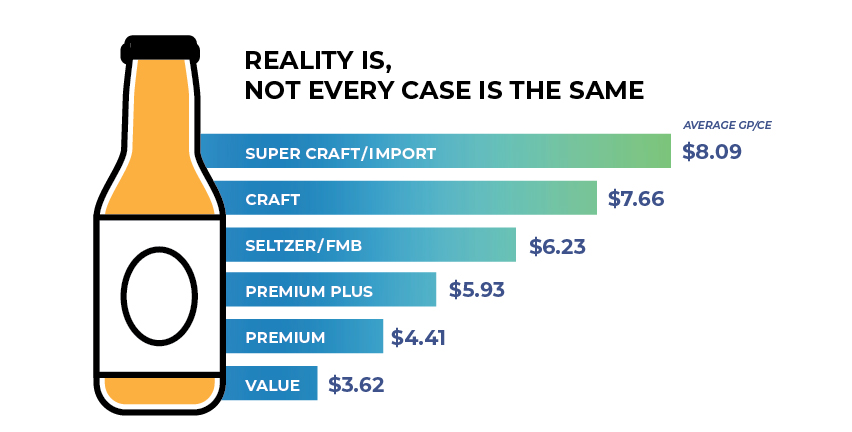 Imagine a situation where your sales team is choosing between 12pk and 18pk cans of Bud Light. Why not promote the 12pk because the GP is $.37 more? Or what about choosing to display Ultra 18pk bottles vs value 30 packs where the consumer can be talked into buying a package that has 2.5x GP because it's on display?
When you add all those changes up at a distributor's scale of 500,000, 1 million, or 5 million cases, you can really see how these small incremental changes around adjusting your team's return on effort can really drive bottom-line performance.
Getting the right return on effort
How do you get the right return on effort? We start seeing the results when a sales team has at a minimum of 25% of their pay is at risk. This at-risk pool of money is how you really incentivize people and get your team to think and behave the way you want them to behave.
Inside that at-risk pool of money we see the best performance when:
50% is tied to Gross Profit Dollars
35% is tied to Volume
15% is tied to Finished Product Loss (FPL)
How these 3 at-risk "buckets" interact is the secret sauce to getting your team to the right return on effort.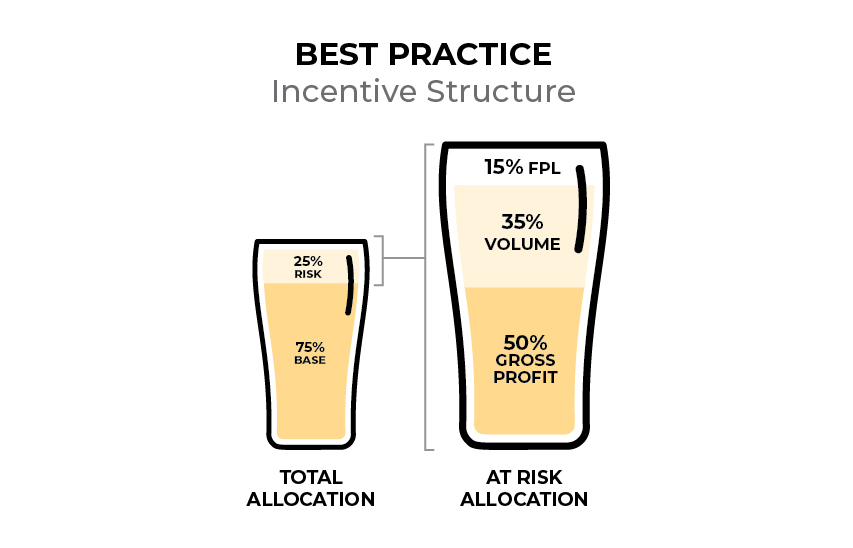 A Soap Box on Why Point Sheets are Dead
We have come to the conclusion that point sheets have run their course in this fast-paced beverage market. They are often out of date, riddled with supplier inefficiencies, and allocate too much pay for execution only.
We've never seen anything like White Claw, at almost a 6% share in some stores, right? Or have we? I would argue that we have seen the tremors before this quake in Zima, FourLoco, Bud Light Ritas, and Not Your Fathers. These brands jumped on the scene and disappeared, or at least quickly shrunk, almost as fast. I would charge that point sheets are one of the things that blinded us to these trends. The challenge with a point sheet compensation plan is that it's a 30-day snapshot of what management is expecting a sales rep to accomplish.
Many of these sheets lack the data to support the decision and are not aligned with your distributor's performance. The problem is that the point sheet is not as systemized as it needs to be. We have access to so much data in a distributor route accounting software and it largely goes unused. Point sheets are more like throwing darts at a board rather than quantifying opportunities in real-time and taking advantage of them.
Ready to take your company to the next level?
VxP is a real-time data analytics tool that your reps can use to make fast, informed decisions to sell more profitable products and positively impact your bottom line.
You will also have a variable compensation system that is aligned with how your distributor makes money.
If you want your sales team to make you 6-20+ cents more per case (more profit without increasing volume), you need VxP.
When the trends are in your favor your reps will see that and can start to expand distribution and promote those expanding brands & SKUs. When they are starting to see individual SKUs or brands falter, they can tweak their sets in real-time to account for the shifts.
Contact us today for a tour of this game-changing tool that will change the way you go to market, help you beat your competition, and make your operation more profitable.